A telegram is an important means of speedy communication. It saves a lot of time. It is sent using coded signals and reaches its destination within a few hours. It is a very concise message.
Format:
INDIAN POST AND TELEGRAPH
ADDRESS OF NAME : …………………......
THE ADDRESSEE ADDRESS : …………………...........
TELEGRAPH OFFICE : ………………….
MESSAGE




SENDER'S NAME AND ADDRESS:
(NOT TO BE TELEGRAPHED)

OFFICAL TELEGRAPH FORM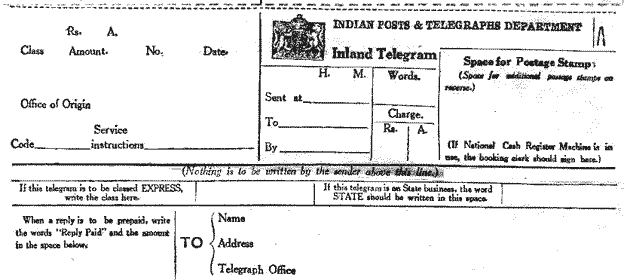 RULES TO WRITE A TELEGRAM:
• Use minimum number of words while writing the address and the message.
• Payment is made as per the number of words used in the telegram. Sender's
name and address is not paid for.
• Only capital letters are to be used except in the column 'Not to be
telegraphed'.
• Punctuation marks are not to be used. Write 'Stop' where a full stop has to be used
• Avoid using words like 'Mr' or 'Shri'.
• Write the message briefly. Do not worry about grammatical errors.
• In the space marked 'Senders name' you should write the name in one word. In case of an official telegram, the designation of the sender and the name of the company should be given.
• Numerals are not used in the telegram. For instance 9 pm, you should write Nine Night.
• No column should be left blank.
• Only the actual message and the sender's name are counted in the word limit.
• Should be written in phrases and not in complete sentences.